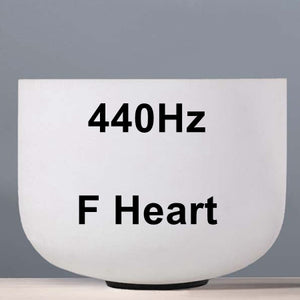 Joy's Galleria
8 inch Note F Quartz 440 Hz Chakra Frosted Crystal Singing Bowl + Rubber Sticker
Regular price
$116.00
$116.00
INCLUDE:1 Piece Crystal Singing Bowl,1 Piece Mallet,1 Piece High Quality Rubber O-ring(thickness is 7mm).
 CRYSTAL SINGING BOWL APPLICATION:Perfect Gift for Meditation Teachers,Sound Healers, Students, Yoga players any friend or loved one. Frequently gifted by many of our customers to friends & family. Something they will truly love.
FACTORY GUARANTEE:We are global largest manufacturer.We can provide high quality, suitable price crystal singing bowl.
Note B  Crown  Chakra - Imagination and higher self
Note A  Third- eye  Chakra - Center for psychic and intuitive abilities
Note G  Throat  Chakra   - Center for communication, both out wardly with others and inwardly with ourselves
Note F  Heart  Chakra   - Gatekeeper to the higher chakras this is the point where we take in and send out our love
Note E  Solar Plexus  Chakra - Point of personal power and the expression of creativity
Note D  Navel Chakra - Center of processing and interoreting
Note C Root Chakra  - Fear and childhood trauma and where kundalini energy may lay dormant
How to Play
Knock the bowl gently and slowly, the player need to keep calm,then divide into three section of bowl month, then choose three point to knock. Or a large satellite tapping method, that is , use the method of painting large satellite knock six times.
 Another way is use the suede mallet friction slight on the bowl's mouth. Methods of friction points has forward(clockwise) and reverse (counterclockwise), forward is added new energy(repair), energy(diarrhea) reversal is ruled out. When knock like dragonfly water only can, need not too hard, when the friction force wants even, don't suddenly heavy.
---
Share this Product
Are you kidding me?
If I could rate you zero I would.
You never delivered the product to my address, but to another across the U.S.
Never received my refund and have not received a replacement and now you want a positive review? Seriously?
I'm still waiting on my money to refunded for a purchase NEVER fulfilled.
It sounds loud and clear.
8 inch Note F Quartz 440 Hz Chakra Frosted Crystal Singing Bowl + Rubber Sticker
8 inch Note F Quartz 440 Hz Chakra Frosted Crystal Singing Bowl + Rubber Sticker
8 inch Note F Quartz 440 Hz Chakra Frosted Crystal Singing Bowl + Rubber Sticker
---