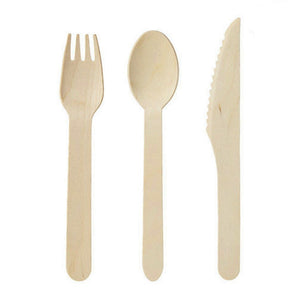 Joy's Galleria
Wooden cutlery 150 pack -forks(50), knives(50) and spoons(50)
Regular price
$25.99
$25.99
Made of 100% natural birch wood: unlike the plastic cutlery which often be used would be harmful to our health.it's non-toxic and no hazardous chemicals products.

Eco-friendly and compostable:This is a gift from nature that can be recycled, which is good for degradation and environmental protection. To protect our Mother Earth, using them is a good choice.

Disposable cutlery set:50 forks,50 knives and 50 spoons.It's hygienic and convenient.

Measured 160mm forks,spoons 165mm knives:suitable for any food. Scope: cafes, family dinners, banquets, parties, hotels, bars, picnics, etc.

No odor: avoids the odor caused by the contact of hot meals with poor plastic tableware.
---
Share this Product
Wooden cutlery 150 pack -forks(50), knives(50) and spoons(50)
Wooden cutlery 150 pack -forks(50), knives(50) and spoons(50)
Wooden cutlery 150 pack -forks(50), knives(50) and spoons(50)
Wooden cutlery 150 pack -forks(50), knives(50) and spoons(50)
---